Acacia Brinley also known as Acacia Brinley Clark, is Sam Pottorff's ex-girlfriend. She released the video telling her fans they broke up here. She releases video blogs every week on her channel, acaciacutie. She was formally in a band called Watercolor.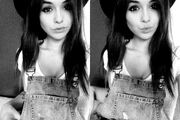 Her twitter: AcaciaBrinley
Instagram: AcaciaBrinley
She has been on Shane Dawson's podcast, "Shane and Friends" in which she discusses her backstory and more of the "Sam and Acacia" buisness. You can find that podcast here.
The songs Watercolor (Her band) have released. 
(More are to be added)